This post may contain affiliate links. This means that if you make a purchase from those links I receive a commission at no additional cost to you. Thank you for continued support!
The Yo-slst is a very unique stitch, the gives a crochet item a knit-look. The items looks like it has been knitted with the fisherman rib stitch. This top is no exemption. This post contains the written instructions for the knit look crop top in bust size 34 inches. This top is great for the summer weather. You can make it in lighter weight yarn. It's very beginner friendly and a very easy pattern. The written pdf pattern contains seven sizing options from bust 30 to bust 54 inches. Yes! It is plus size inclusive! The bust 34 size is written below.
Read on to find the free crochet pattern below or find the ad-free printable pdf  version on Ravelry, Love Crafts, Ko-fi and Etsy.
Sign up for newsletter here
Video tutorial
If you prefer video tutorials, you can watch the video tutorial for this knit-look top above.
Also watch more crochet video tutorials of my patterns on my YouTube channel. Subscribe and turn on notifications so you won't miss any of my future videos. Happy crocheting!
PDF PATTERN
If you prefer to work offline or if you would like to support my work, purchase the ad-free printable pdf version, including all photo tutorials on Ravelry, Love Crafts, Ko-fi and Etsy.
PIN it for later here
Save this pattern to your Ravelry favourite here
Materials:
5.0 mm crochet hook
Worsted weight  – 100g (2 balls)
Stitch markers
Yarn needle
Difficulty:
Beginner
Gauge :
16 stitches /14 rows= 10 cm/4 inch square in yo-slst
Stitch Guide (US Version):
Ch:  Chain
Yo-Slst: Yarn over Slip stitch: yarn over insert to hook into a specified stitch, yarn over pull through (three loops on your hook), pull the first loop on your hook through the remaining two loops to complete the stitch
BLO: Back loops only
Slst: Slip stitch
Pattern note
Ch 1 at the beginning of a row doesn't count as a stitch
Use the first row to determine the right side that way the Vs are facing up
The top is worked sideways
The number of chains is the length of the top and the number of rows is the bust size
Use a cable needle to hold stitches if having issues with I-cords or you could make your straps whichever way it's convenient.
Pattern Instructions:
Ch 45
Row 1: Yo-slst into the second chain from the hook. Yo-slst in each stitch across. 44 stitches.
Row 2: Ch 1, turn. Yo-slst in the back loop only of the first stitch and in each stitch across. 44 stitches.
Row 3- Rows 96: Repeat row 2. Ch 1 and cut yarn. Leave a long tail for sewing
Straps
From the last row skip 14 rows,  mark the next 2 rows, skip 16 rows, mark the next 2 rows, skip 28 rows , mark the next 2 rows,  skip 16 rows, mark the next 2 rows, you should have 14 rows left. The marked stitch are the places to add straps.
Turn your work to the wrong side. Remove stitch maker,from marked stitc,  Attach yarn with a slip knot, Ch 1 to secure. Slst into the first stitch and into the second stitch. Ch 1 and turn, so that the right side is facing you, insert hook in your the 1st Slst and pull up a loop, insert hook into the 2nd Slst and pull up a loop. (you have 3 stitches on your hook) we will use the 3 loops as the base of our i-cord.
I-cord
Row 1: Drop 2 loops from hook. Hold on to the dropped loops with your second hand so they don't unravel. Yarn over and pull through the remaining loop on your hook. Insert hook into the middle dropped loop, yarn over and pull through (2 loops on hook) insert hook into remaining dropped loop, yarn over and pull through (3 loops on your hook)
Row 2: repeat row 1
Keep repeating row 1 till i-cord measure15 inches long (approximately 50 to 60 rows). Repeat i-cord for all the 4 straps.
Yarn over and pull through all three loops to finish i-cord. Ch 1 and cut yarn. Weave in all strap ends.
Sew up the back seam going through both loops on both sides of the seams. Weave in all ends
Finished Top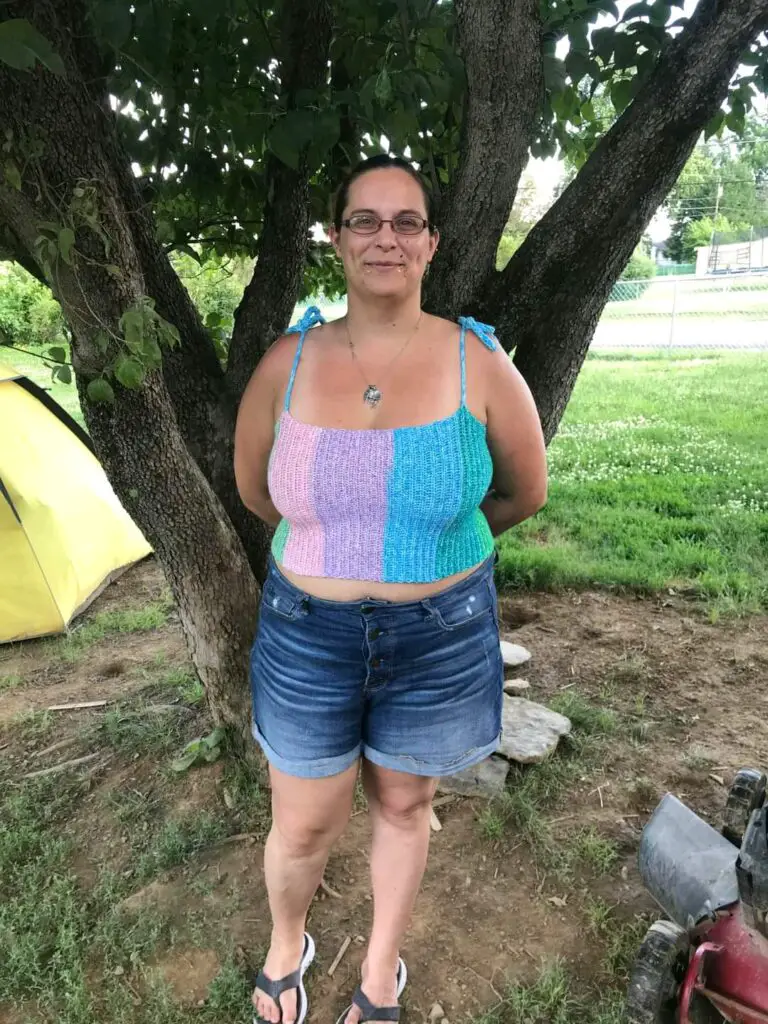 Disclaimer:
All pictures and patterns on toyslabcreations.com is a property of Toyslab Creations. Please do not reprint, publish or post my patterns in whole or in part. Please don't use my photos to advertise if you use my patterns to make and sell finished items.